Toomey T5SCJ Chrome Set Banshee Pipes Jets
SKU: BAN-TMY-T5SC-J
Our Price

US$645.95
US$724.99
You Save 11%
Yamaha Banshee YFZ350 Toomey Racing T5SCJ Beautiful Polished Chrome T5 Pipes, Stinger Tubes, Rubber Pipe Seals and Silencers AND Jet Kit...
T5SCJ - Banshee YFZ350 Chrome Pipe Set with Perfect Jet Kit
Beautiful Polished Chrome Pipes, Stinger Tubes, Rubber Pipe Seals, Silencers AND Perfect Jetting Kit

T5 are the single most powerful Professional Racing Pipe ever designed for the Yamaha Banshee!

The T5 Racing Pipe Kit is the single biggest reason Toomey is the largest selling manufacturer of Yamaha 2-Stroke ATV Racing exhausts in the world. Baja 1000 Winners, World Champions and racers of all levels use our exhausts to dominate the competition!

The T5 Kit was selected as Editor's Choice (3&4 Wheel Action Magazine) for these reasons:

· Highest Quality Fabrication
· Highest Total Power
· Widest Power Band
· Best Fit, Finish & Craftsmanship
Search Related Products
---
Not all Items are in stock. Please
check stock & availability
before ordering. Manufacturing lead times vary.
Canadian residents: receive an accurate
Canadian Price
-or-
Checkout Now
to receive an estimated Canadian price.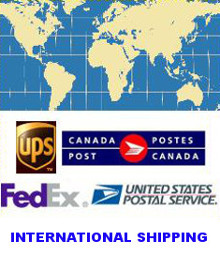 Outside USA/Canada
Contact Us
for
an International Freight Price.
Surface or Air