Yamaha Banshee DMC Alien Exhaust System
SKU: BAN-DMC-25450-00
Our Price

US$585.95
US$669.95
You Save 13%
Yamaha Banshee DMC Alien Exhaust. Anodized mufflers and black end caps is a complete system that features 2 standard chrome plated expansion chambers, mid-pipes, and mufflers.....
The ever popular Banshee just got a facelift with the new updated DMC Banshee Exhaust.

2 new all black anodized silencers -or- 2 traditional clear anodized and black end-cap silencers

2 standard chrome plated expansion chambers, 2 mid-pipes.

This system delivers a massive 37% gain in horsepower, 30% gain in torque, and a weight savings of 14.9 pounds compared to stock!

This is unbelievable power that will completely decimate your competition! Grab onto all that power and run it as far as your courage will take you in this smooth and controllable power band the delivers from bottom to top.

USFS/USDA approved spark arrestors are SOLD SEPARATELY. Remember, this system requires (2) Spark Arrestors.

1989-Current YAMAHA YFM 350 BANSHEE EXHAUST
· 37% Increase in Horsepower
· 30% Increase in Torque
· 14.9 lbs. weight savings over stock
· Spark Arrestors Sold Separately

Search Related Products
---
Not all Items are in stock. Please
check stock & availability
before ordering. Manufacturing lead times vary.
Canadian residents: receive an accurate
Canadian Price
-or-
Checkout Now
to receive an estimated Canadian price.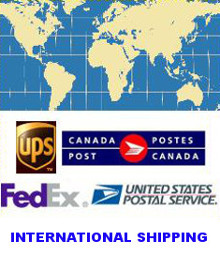 Outside USA/Canada
Contact Us
for
an International Freight Price.
Surface or Air