YFZ350 Yamaha Banshee Toomey Racing T5KC Kit Chrome pipes
SKU: BAN-TMY-T5KC
Our Price

US$649.95
US$729.99
You Save 11%
T5KC - Banshee Pipe Kit Polished Chrome


T5 Pipes, Stinger Tubes, Silencers, Perfect Jet Kit, Uni-Filter air filter and 12 Airbox Vents for stock airbox, Silicone Pipe Seals, Chrome Finish.

The T5 Racing Pipe Kit is the single biggest reason Toomey is the largest selling manufacturer of Yamaha 2-Stroke ATV Racing exhausts in the world. Baja 1000 Winners, World Champions and racers of all levels use our exhausts to dominate the competition!


The T5 Kit was selected as Editor's Choice (3&4 Wheel Action Magazine) for these reasons:

· Highest Quality Fabrication
· Highest Total Power
· Widest Power Band
· Best Fit, Finish & Craftsmanship

Escapes Toomey Racing T5 Yamaha Banshee Con Kit Carburación

El precio es con kit de carburación!

Incluye: filtro de aire, filtrines para la caja filtrera, gomas de silicona alta temperatura para unir las vejigas con las colitas, chicleur, aguja y manual !!

Oferta y reserva el tuyo que hay pocos.

DESCUENTO DE PRECIO POR NUESTRA WEB
Great pipes, quality finish and really open up the potential of the quad, its either wheel spin or wheel stand. Costumer service was great had a small issue but was resolved quickly thanks goes to Mark. On a final note it sounds like a 2 stroke should too.
Dear I am writing from Argentina. I am interested in commercializing and selling products that you sell. Therefore I would like to know if you ship to my country. Awaiting your comments, Thanks, Best regards. ___________________ We ship weekly to Argentina
All Reviews
Search Related Products
---
Not all Items are in stock. Please
check stock & availability
before ordering. Manufacturing lead times vary.
Canadian residents: receive an accurate
Canadian Price
-or-
Checkout Now
to receive an estimated Canadian price.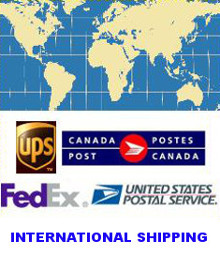 Outside USA/Canada
Contact Us
for
an International Freight Price.
Surface or Air