Race Ready IRS
High Speed Dirt
Developing Race-Ready IRS
| | |
| --- | --- |
| Adam Dowden- ATVConnection | |
Over the last few years, more high performance ATV's have been unveiled as either concepts or production models than the last decade. Most of the new models have implemented new technology and designs that have never been seen on production ATV's before. Features such as electronic-fuel-injection, 5-valve heads, lightweight aluminum frames, and quads with race-ready suspension right off the showroom floor are just a few. While manufacturers are always updating suspension quality or increasing travel, one feature that hasn't been put into a production sport or high-performance machine yet is an independent-rear suspension (IRS).
Mark LoScerbo, an engineer and ATV enthusiast, believed that going to IRS would be the next step in developing ATV's designed for racing. One of the reasons he thought IRS would work so well on a quad is because with IRS, each rear wheel moves independently of each other allowing each side to remain in constant traction; unlike quads with a standard solid rear axle. When setup correctly, this leads to increased traction and handling on rough tracks or trails. This type of suspension configuration has been used in sports cars such as the Corvette, Cobra, and some Jaguars, as well as race situations such as Formula One, Rod Hall's Hummer and Ivan Stewart's Toyota Trophy Truck.

ATV chassis designs that incorporate IRS aren't completely foreign to ATVs. Back in 1987, Suzuki introduced their first four-wheel drive ATV, which featured IRS. However, it didn't have very much suspension travel and definitely wasn't aimed at the MX racing crowd. A few big 4x4 quads from Polaris and Arctic Cat currently use long-travel IRS, and both owners and test riders praise the smooth ride and it's ability to soak up obstacles with ease. However, none of the current production quads with IRS are suitable for MX racing, even when modified.
Mark came to the conclusion that if the factories wouldn't build a high performance quad with FWIS (four-wheel-independent-suspension), he would. HSD Racing (High Speed Dirt) was formed, with a mission to "provide MX racers with a high speed, responsive quad featuring IRS (independent rear suspension)."

HSD used an '87 Suzuki Quadracer LT250R as a starting point, and began to come up with design ideas to build a MX racer out of it featuring FWIS. While the IRS on quads like the Polaris Sportsman 500 are known for their ability to absorb ruts and bumps with ease, they also have a few drawbacks. When ridden aggressively, they can feel tall and tippy, and are prone to a lot of suspension roll-over in corners (even with sway-bars); not to mention the extra weight tacked on by all the additional drive-line and suspension parts. Mark was confident he could build his LT250R up to pro-level MX racing standards and utilize IRS in his design without having to deal with the drawbacks typically associated with this type of design.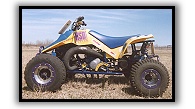 Mark relocated the seat, fuel tank and fenders from their stock locations to lower the center of gravity. They were moved down 1-1/4" and moved forward 5/8" relative to the engine, putting more of the riders weight forward.
After many long hours and a lot of hard work, High Speed Dirt finished "Phase 1" of their project in 1994. Extended testing on all types of terrain and racetracks revealed promising results; but they still weren't completely satisfied. HSD felt they could improve upon their first design, and went to work on the next edition. HSD finished "Phase 2" in early 1999, and Mark claims that when he raced it in the Minneapolis, MN Metro Dome in January of '99 during the PACE US Off-Road Championship Series, it was his first time riding the finished project. What they ended up with is far different from any other ATV ever made. Not only was the rear-end engineered to incorporate IRS, but the rest of the quad was also redesigned to improve handling and get it up to the level of performance needed for professional racing. Mark claims that the quad now handles great, and has no suspension roll in the corners without the use of sway-bars.

For their first model, HSD chose to use a Suzuki LT250R. However, Mark informed us that they can build a FWIS chassis around any engine, from any OEM. He also said that when building the IRS chassis, they can incorporate any existing front end components (i.e. Laeger or other), as well as any fender and seat arrangement.

We caught up with Mark LoScerbo and asked him a few questions about his FWIS racing quad:
ATVConnection: What originally inspired you to start working on this project?
Mark: Originally I wanted to design the first IRS two wheel drive quad for racing. The past few years it evolved into the best handling IRS quad. Now I am motivated to build the lightest and fastest racing quad. Marty Hart (former ATV Pro) had a very optimistic outlook for IRS which helped me in the beginning.
ATVConnection: From start to finish, how much time has been put into research and development?
Mark: No one was paying me for my time so I haven't kept track of the hours. If I factored in R&D time it would be unaffordable. R&D time is 70-80% of the total hours and the fabrication time is only 20-30%. It takes much more time sitting at the CAD screen than it does cutting, machining and welding.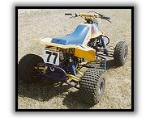 HSD didn't only upgrade the suspension, but they also built their own front and rear bumpers, to help add protection and style. It breaths through a custom HSD air-box which incorporates a K&N filter.
ATVConnection
:
What frame modifications and part fabrication was required in the build up?


Mark:

The first prototype appeared in the February 1996 3&4 Wheel Action. The drive train remains on this quad, but the suspension geometry and frame are very different from the prototype. The drive train is modified VW Rabbit CV joints and shortened axles. Between the motor and the rear axles is a custom jackshaft which the inboard brake spins on.

The front and rear A-arms and frame were re-designed to eliminate roll at the outside wheels and keep all four wheels on the ground when cornering. The lengths of the A-arms and the frame pivot points have changed. The lower front A-arm is +2 wider than stock. The caster is reduced to +4, the camber is now approximately. -1 at ride height for better tire contact (stock LT camber is positive). The LT spindles have been gusseted in weak areas.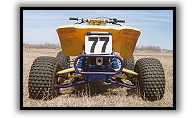 The A-arms and frame were re-designed to eliminate body roll at the outside wheels and to keep all four wheels on the ground while cornering aggressively. The camber is adjusted to -1 (at ride height) for improved handling.
The steering is redesigned with one tie-rod idler arm and mini tie-rod added on each side of the steering frog. The arms allow me to use the correct tie-rod length, the main tie-rods are actually shorter than a stock LT even with wider A-arms. In the 1980s this setup was known as a bump steer kit. Correct tie-rod length makes for almost no bump steer throughout the travel of the wheels. The wheel travel is increased by 1" bringing it to 10" of travel at each wheel.

The rear shock lower mounting point was on the upper A-arm. It is now located on the lower A-arm and the upper mounting point on the frame has been lowered.

Relocation of the seat, tank and fenders lowers the center of gravity. The seat, tank and fenders moved down 1-1/4" and forward 5/8" relative to the engine, shifting more rider weight and fuel forward.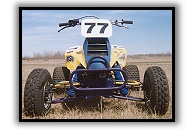 The stock front-end steering components were also redesigned. Two tie-rod idler arms were added to allow for the correct tie-rod length, which Mark claims makes for almost no bump steer throughout the travel of the wheels.
ATVConnection
:
Suspension geometry is important, but without good shocks you can't be competitive. What setup are you running?


Mark:

Performance Engineered Products (PEP) Zero Preload System (ZPS) shocks by Wayne Mooradian. Wayne is very knowledgeable and we were able to work together on the development of the suspension and shocks. With ZPS the ride height is approximately 2-3" lower than with the LT250 shocks. The ZPS shocks are set up so that at ride height 40-50% of the wheel travel is used up (approximately 4-5"). It may sound like a lot but at ride height there is still over 8" ground clearance for the full length of the chassis which is excellent on a MX track. The main springs were selected to allow firmness when cornering, the quad now does some serious 'High Speed Dirt' turns with the new chassis and shocks. The rebound action of the shocks is excellent.
ATVConnection
:
How does the increased traction in the rear affect sliding?


Mark:

During turn-in the lateral load is absorbed by the suspension linkage and then the main spring. All this 'forces' the chassis level in a corner. It slides very much like a rigid axle and with the increased traction of having both rear tires firmly on the ground it has amazing acceleration exiting the corner.
ATVConnection: Does the IRS cause the rear to squat under hard acceleration, making the front end light and causing less predictable handling?
Mark: Generally speaking the quad works best when it is kept under hard acceleration and ridden fast.
With a rider the front to rear weight ratio is 44% front 56% rear. There is some transfer of weight to the rear, however under hard acceleration it only partially squats then the main shock springs resist further squatting. It would never bottom out under acceleration and negatively affect handling. With ZPS and 4-5" of droop the front tires stay on the ground under hard acceleration and the quad is still steer-able. I could totally eliminate squat on the next quad, but it's not necessary.
ATVConnection: In general, what are the main advantages of this type of setup?
Mark: In all forms of competition the cornering speeds are faster because the chassis remains horizontal and all the tires are on the ground. In MX/XC/Desert it can be ridden faster, through ruts and moguls, maybe a gear higher. If a take off is not perfect it's OK because you can land crooked. In whoops you don't need to straight line it, start them on the left and then exit on the right if you like.

ATVConnection: What are some of the disadvantages?
Mark: The main disadvantage with this quad is the power to weight ratio. I used mild steel and it is heavier than a stock LT250 Quadracer. The next quad wont be any heavier than a solid axle machine.
ATVConnection: Obviously the suspension was the main focus, but what modifications have you made to the motor to keep it competitive power wise?
Mark: I put a ported 1988 cylinder on the stock 1987 bottom. The carburetor is a 38mm PJ Keihin and the CT pipe/silencer are modified for the IRS chassis. I still need more power!
ATVConnection
:
The quad featured here was setup for MX racing. You told us earlier that with a change of tires and suspension settings it would work well for other types of racing. Have you actually tried any other forms of racing with this quad yet?


Mark:

Yes I have tried TT racing and it handled very good even without the addition of anti-sway bars. Because it corners so good it will be successful in all forms of racing MX,XC,TT,FT,ICE & Desert. With the right tires and the superb ground clearance IRS would really shake up Cross Country racing scene.
ATVConnection: How long do you think it will be before the media and pro racers recognize that IRS has it's place on the race track?
Mark: Hopefully as soon as possible! All it would take is for one ATV Pro to demonstrate an IRS machine at a race. Another way that IRS would get recognized is if a major manufacturer released an IRS quad. IF I had access to the resources available at a big factory there would be Pros racing IRS quads now.
ATVConnection
:
What are your future plans on developing the FWIS race quads even further?


Mark:

The plan is to develop a model for each form of competition. When ATVers decide to use IRS for racing then I propose to build a brand new four-wheel independent suspension (FWIS) quad. It can have 10-14" of travel depending on the type of racing. It will have improved ride qualities on rough tracks by 'raking' all four shocks, or leaning the top of the shocks to the rear at about 5-10 degrees from vertical. The new HSD FWIS quad will be nearly the same weight as a solid axle machine and features 4130 tube frame and suspension and aluminum bolt-ons. The ATV CV joints and axles are smaller and lighter than what is used now.
---
As you can see, Mark has spent a countless number of hours attempting to bring this quad as close to perfection as possible. All of the hard work is paying off, and High Speed Dirt's LT250 IRS Racing Quad has been getting quite a bit of attention. It has been featured in previous issues of 3 & 4 Wheel Action Magazine and ATV Sport. He has also entered it in a few shows, including the World of Wheels auto show.

Although we mainly concentrated on the IRS in this article, just about everything else on the quad has been modified for racing as well. Be sure to take a look at the specifications below to see all of the other modifications HSD has made to their IRS racer to keep it competitive both in the handling department as well as power wise. If you would like more information about the FWIS MX quad featured here, are interested in possible sponsorship, or maybe you would like to have one built for yourself, HSD Racing would love to hear from you.